Good Morning and a Happy New Year.
Hope everyone had a wonderful New Year's Eve and that 2014 will be a happy and prosperous one for you.
As it is the first of the month we have a new challenge over at Sparkles Christmas Challenge where this month our challenge is brought to us by our team member Helen N: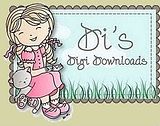 Our sponsor this month is the super Di's Digis with a prize of a $10 voucher.
Hope to see you joining in our challenge and making a start on your Christmas cards!!!!!!!!!!
I decided to make a stepper card:
Image - Lili of the Valley
Colouring Medium - Copics
Paper - Papermania
Large Tree die - Marianne
Smaller Trees - Punches
Sentiment, Glamour Dust and Ribbon